Displays an embed that contains useful information pertaining to wick's functions. It includes links to our documentation, website, support server and many more!
Displays an embed that has links to add wick and gives a short info regarding premium wick!
Donations are something that keeps wick up and running. Donations will truly make the difference by allowing us to provide the best resources for Wick to run on, also allowing us to work on providing even more features, and we are extremely grateful for that.
If you are not subscribed to a Wick tier, we would love for you to subscribe to one. At least you'll get a thank you from us in a form of a product instead.

If you want to directly donate to help us out, let us know in the Wick Lounge:
You can show us some love by upvoting it on various botlists!
It will also show the number of votes you have casted for wick.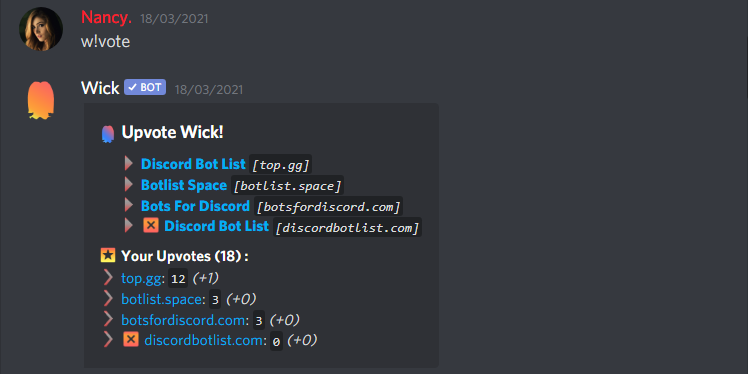 Ping Pong!
When run, this command will show you a few things about the shards of wick.
For each shard you can see the following details:
The total number of members in that shard
This is also visible in Wick's status.

Wick's status can also be viewed on its status page.
This commmand will display wick's team members and supporters. It also gives details about its current version. 🥚​
Lists wick's official website where you can post your review of wick and also bots.ondiscord.xyz.
Reviews help us immensly, thanks for having the time to tell the world what you think about Wick!
Provides you with a link to wick's premium page along with some info regarding our premium bot.
This command will display an overview of the current status of major systems and if the important essentials are still present.
Persistence is the feature that gives Mute / Quarantine to users that are Muted / Quarantined who try to leave and rejoin your server to shake off their respective roles.
w!tshoot can be used to decache your server and it could solve certain issues that you may be facing