Login to the dashboard using your discord account and setup Wick perfectly in your server by making use of the new dashboard!
[1.] The main dashboard shows all the servers you can manage and the servers that you have admin in but wick isn't present there.
You can click on the server's image to display couple tools for quick accessing.

Clicking on the server's namewill directly take you to that specific server's overview page!
[2.] If you have more than One wick in your server, hierarchy will apply.
i.e., if you have both Standard Wick and Premium Wick in your server, the dashboard will show premium wick's settings only.
[2.] If you can't find your server on it and you are sure that you have at least PERMIT LEVEL 4 in that server, click the green button on the bottom left corner.
This is the decache button and it'll decache the dashboard.

Still don't find it? Get support!
You can find the tasks that need to be fulfilled on the right side of your server's overview page.
You may ignore the BLUE tasks at your discretion.
You can have Wick punish members for saying certain words by using Wick's Words Blacklist. In order to ban certain words, go to the dashboard, Automod heat filters and then click on "Words Blacklist". Below, you can see a bar where you can enter words that you wish to ban!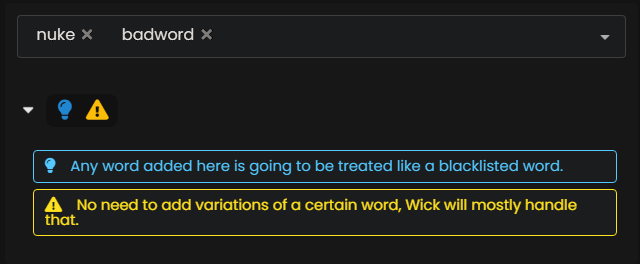 No need to add variations of a certain word, Wick will mostly handle that.
The dashboard will show your server's recent security activity.
Go to the "RECENT ACTIVITY" section below the Server Overview section and view your recent activities by clicking on "Nothing" which will provide a list of activities to choose from. Those activities include:
Recent Roles Deleted/Created

Recent Channels Deleted/Created

Recent Webhooks Deleted/Created

Recent Emojis Deleted/Created
Want to see how secured your server really is? Head over to the Dashbord and click on magnifying glass [🔍] icon to have wick sweep your server.
Running the Server Sweep feature is super useful to secure your server. Wick will guide you.
The higher score you get, the better secure it is! Wick will also give you a list of issues to fix.

It's practically impossible to nuke a server that's 100% secure
The details that are given in red boxes MUST be fixed immediately to have a safe and secure server.
You may ignore the details provided in ORANGE boxes at your discretion.